System Training for Contract Providers
Columbia-Suicide Severity Rating Scale (C-SSRS) Training & Safety Planning Review – Held at the HCMHRSB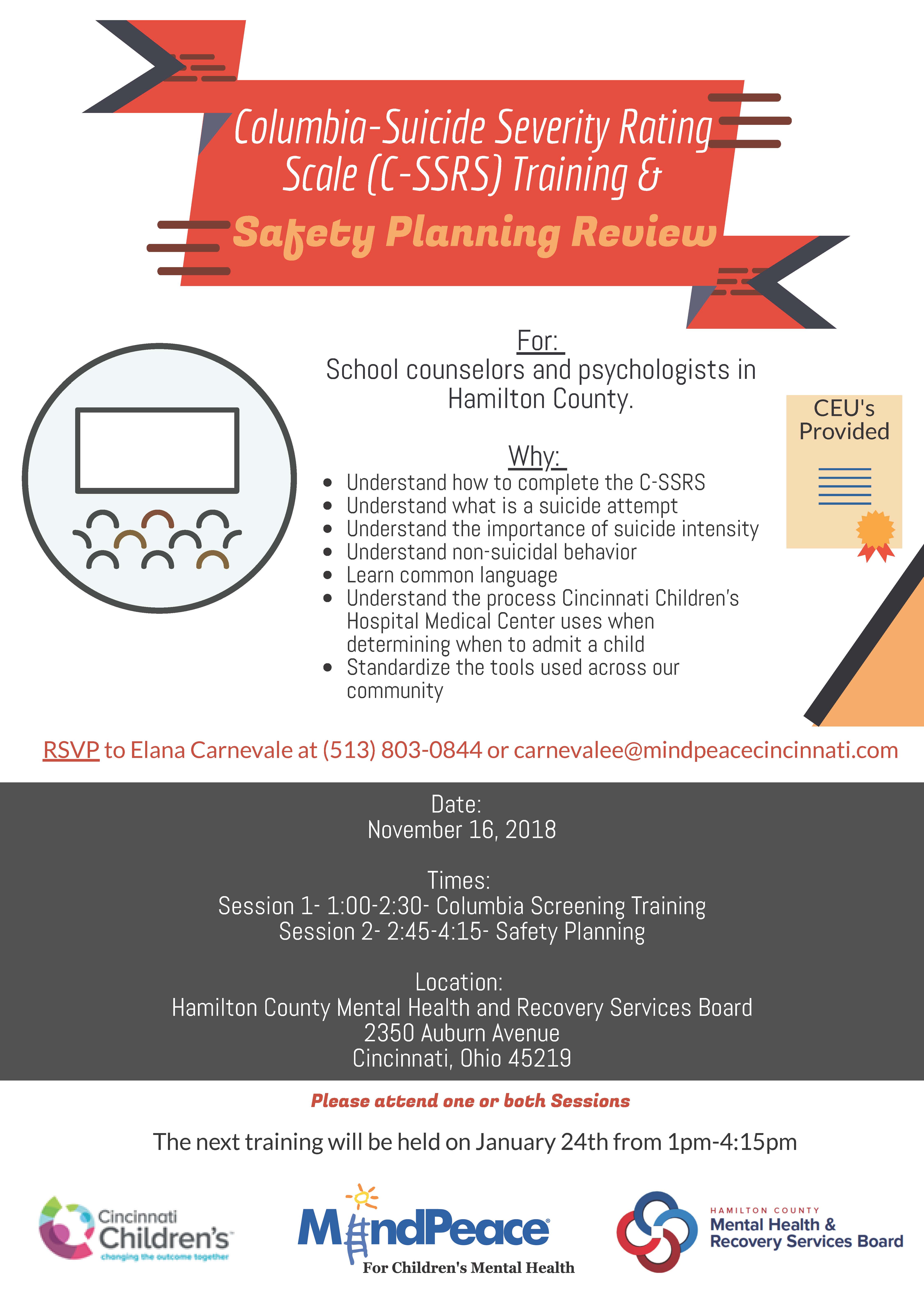 Housing Training – Held at the HCMHRSB
Description

– provides the necessary tools and information to successfully navigate the mental health housing continuum funded by the Hamilton County Mental Health and Recovery Services Board.  

HCMHRSB Housing Continuum (PDF)

  

Homelink Housing Services (PDF)
Target Audience – Case Managers, supervisors and Team Leaders
Learning Objectives: 

Increase case manager's knowledge of the housing continuum in order to effectively utilize available resources
Understand how to successfully initiate and complete a referral and placement process
Increase case managers awareness and understanding of supportive housing services
How to complete accurately complete required paperwork

2019 Training Dates (9:00 – 11:30)

February 12, 2019
June 11, 2019
October 8, 2019
Understanding Probate Court Procedures – Held at the HCMHRSB
Description – This training is designed to optimize understanding of basic Probate Court procedures encountered in working with clients who are on Outpatient Community Probate. Outpatient Community Probate: A Civil Commitment for Outpatient Treatment (PDF)
Target Audience – Case managers, supervisors, Team Leaders, Independent Social Workers, Independent Counselors and Nurses
Learning Objectives:

Describe how a patient is placed on Outpatient Community Probate
Identify the documents required for an Outpatient Community Probate hearing and describe the process of preparing the documents for the hearing
Explain the process for obtaining a motion requesting inpatient treatment for a patient on Outpatient Community Probate

2019 Training Dates (2:00 – 3:30)

July 16, 2019
November 12, 2019
Mental Health-Criminal Justice Collaboration Training – Held at the HCMHRSB
Description – This training is designed to provide tools for case managers to navigate the Hamilton County Justice Center in an effort to advocate for their clients.  The Hamilton County Justice Center: A Virtual Tour and Jail Orientation for Case Managers (PDF)
Target Audience– Case Managers, Supervisor, Team Leaders
Learning Objectives:

Take a "Virtual Tour" of the Justice Center campus
Increase communication between the mental health and criminal justice system
Strengthen partnerships between the mental health and criminal justice system
Promote advocacy for the needs of mentally ill incarcerated individuals and their families

2019 Training Dates (2:30 – 4:00)

April 9, 2019
August 15, 2019
Case Management Solutions – Held at HCMHRSB
Description:  One and a half hour interactive presentation for case managers to educate and empower.
Target Audience:  Case Managers
Learning Objectives:  Based on the topic for the month
2020 Training Dates (9:00  – 10:30) – CEU's Provided
Click Here to Register for these trainingshttp://events.constantcontact.com/register/event?llr=qhrdpbjab&oeidk=a07egwd17ua38a56fc0
Jan. 30th – Outpatient Community Probate 101
Feb. 27th – Criminal Justice – How to Support your Client when they are Arrested
Mar. 26th – Developing Effective Interventions for Individuals Diagnosed with Severe Mental Illness
Apr. 23rd – Employment Services (Ages 14 and Older)
May 28th – What to do in a Crisis/Personal Safety
June 25th – Strategies for Hard to House Clients
July 23rd – Balancing Client Care and Productivity
Aug. 27th – How to Support Medically Complex Clients
Sept. 24th – How to Engage Families in Client Care
Oct. 22nd – Strategic Interventions for Working with TAY (17-32 yrs old)
Nov. 19th – Natural Community Supports for Recovery
Case Management Orientation – This training takes place on the Summit Behavioral Healthcare campus
Description:  Opportunity for case managers new to Hamilton County to learn about the system and available resources.
Target Audience:  Case Managers, Supervisors and Team Leaders
Learning Objectives:

Meet staff
Tour Facility
Learn how to document in the chart after visit with client

2020 Training Dates (10:00 AM – 12:00 PM)

May 12, 2020  and  September 8, 2020

To Register, Please Call 513.948.3749 and leave a message.
Looking for a different event?